Digital Karaoke Processor Bonus MK-136S
Mixer digital karaoke Bonus MK-136S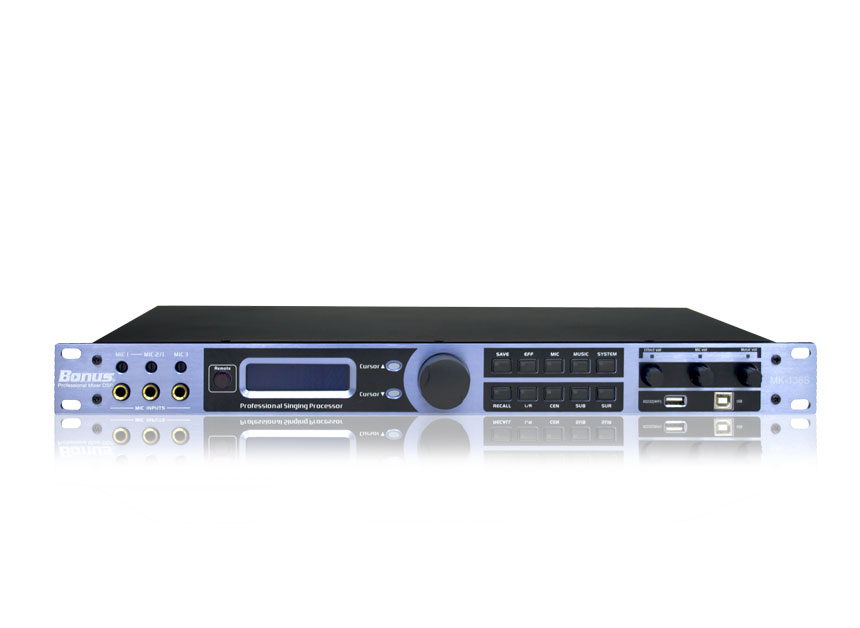 Bonus Audio introduces the MK-136S digital mixer, professional electronic sound amplifier. This is a professional, high quality mixer for karaoke, with top quality sound, honesty, detail to every tone of music. Mixer digital Bonus MK-136S is a product from the brand Bonus Audio – manufacturer of audio equipment, professional karaoke equipment, modern. Using Bonus MK-136S mixer, all setup will be adjusted by computer so very accurate every detail. The most striking feature is that it is possible to setup wireless easily and simply.
This is an improved product with 3 signal inputs, 3 dedicated line micro-2 lines. Special REC OUT port for recording extremely professional and class.
With the MK-136S Digital Bonus Mixer, noises, noises will no longer affect the sound quality. And especially the micro sucking of the microphone will be limited to the best, making music sound honest, clean and more granular.
In addition, Bonus MK-136S mixer also has the ability to separate the bass, midrange, high tones while playing music to not be mixed together, making you enjoy each instrument the most clearly. Not only that, Mixer Bonus MK-136S uses very powerful power, will bring you astonishing surprise; The sound of the background music is crystal clear, the singing escapes the soothing and soothing soothing.
Music will be a lot better thanks to the digital equalizer system, which can be extremely efficient and flexible with each frequency in the frequency range from 20Hz to 20KHz.
The Mixer Bonus MK-136S incorporates a built-in compressor to control, control, set the threshold, limit the intensity of the input sound and output sound intensity to avoid speaker failure. In addition, the Bonus MK-136S offers flexible and intelligent correction functions for subwoofer speakers, enhancing subwoofer performance.
Circuit boards are assembled on an automatic SMT line, contact capacitors, capacitors, capacitors, solid capacitors (aluminum capacitors) for superior sound quality and greater durability.
Some other highlights:
03 line Micro – 2 line micro microphone
03 input signal line
01 line REC out
Custom Echo and Delay functions.
There is an LCD displaying the Echo and Delay frequencies
Separate tone and Microphone functions.
Advanced anti-howling function … extremely useful, and easy to use.
Manufactor
Bonus Audio
Product Type
Mixer DSP
Product
Bonus MK-136S
DSP
Main IC
The ADSP-21375 of ADI
MHz/RAM
266MHz / 0.5Mbit
Sampling Rate
48K
Sampling Precision
24bit
DAC Chip
Take Enthusiast CS4398
EQ
Mic1:15 segments
Mic2:15 segments
Music:7 segments
Echo:3 segments
Rev:3 segments
Main:7 segments
Cen:7 segments
Sub:5 segments
Sur:7 segments
Record:3 segments
Limiter
Mic,Main,Cen,Sub,Sur
THE HOST FEATURE
Tấn số đáp ứng
20Hz~20kHz,±0.1dB
THD
Mic:0.04% 20Hz~20KHz;
Music:0.01% 20Hz~20KHz
Cổng kết nối
RS232、USB
Feedback Control
Built-in DSP feedback inhibition advanced algorithms.
Key Control
In support of  rise-fall tone for music.
MIC Bass Boost
Improve thick degree of mic effectively.
Multi-level Password Protection
Yes
Available Memory Capacitance
16
Màn hình hiển thị
1602 LCD
Nguồn điện
AC 220V/50Hz
Consumption
10W
Kích thước(LxWxH)
483mm x 218.5mm x 47.5mm
Trọng lượng
3.5kg
Line IN
MIC INPUT
Input Interface
3 lines mic input,two-mic handle,the effect volume of Single mic is adjustable,The volume can be adjusted by potentiometer independently.
Trở khàng
10KΩ
Input Gain
-∞~0dB
Max Input
120mV(effect:0dB,input gain:0dB)@1kHz
250mV(effect:-∞dB,input gain:0dB)@1kHz
MUSIC INPUT
Input Interface
2 stereo RCA
Input Impedance
47KΩ
Max Input
1.2V@1kHz
Line OUT
Outgoing Interface
6 lines XLR-3(Main L/R、Cen、Sub、Sur L/R)
Output Impedance
100Ω
Max Output